A healthy diet and consistent exercise speak to spiritual obedience.
A healthy body impacts the spirit in a positive way and helps one to love God, oneself, and others.

The mission of the Health and Wellness Ministry is to help the congregation and community
care for themselves and one another…to attain, maintain and/or regain the best possible
WHOLE-person health and wellness of body, mind, and spirit --
following the example of Christ and guided by the Holy Scriptures.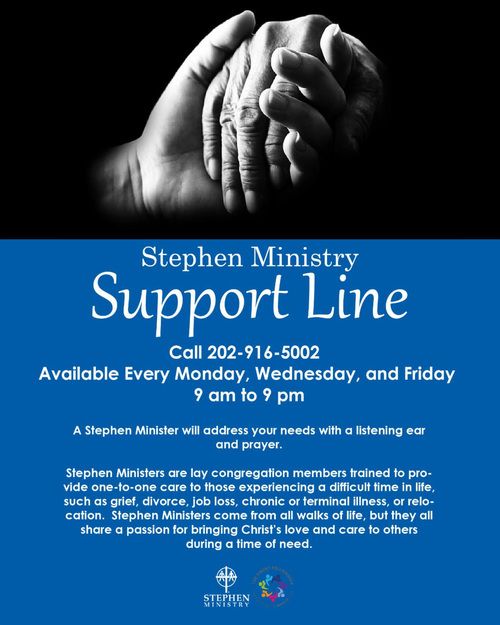 The Stephen Ministry offers a proven and effective way to organize, equip, and supervise a team of congregation members—called Stephen Ministers—to provide high-quality, one-to-one, Christ-centered care to people in the congregation and the community experiencing life difficulties.

You can always reach out to the Stephen Support Line every Monday, Wednesday, and Friday from 9 am to 9 pm. One of our Stephen Ministers will address your needs with a listening ear and prayer.
Call 202-916-5002 for our Support Line!
This ministry is about caring for those that are managing the loss of a loved one that has transitioned from this life.

~ Save the Date for our Grief Workshop on Saturday, July 23, 2022 ~